Android app that provides free calls and traditional messages using your email address. It implements a free call service using the email address as identifier. App available in the Google Play Store: 

MailFon is a service fully integrated with your contacts and phone numbers. You can call to your counterparts using their email address, and leave a message if they are absent. They will be able to listen the voicemail messages.
Main features:
SIP Standard.
Audio codec G711.
Integrated with Kamailio.
Integrated with Asterisk.
SIP Autoprovisioning.
VoIP Solution.
Voicemail.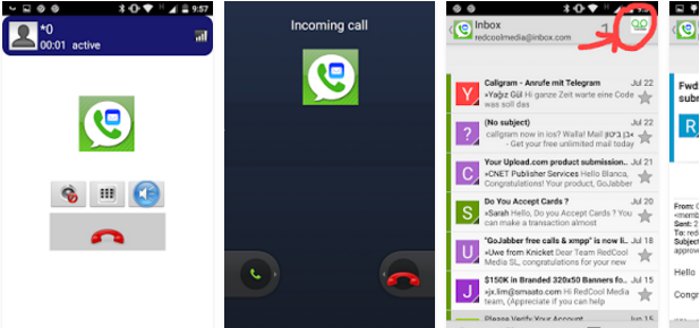 As email client, MailFon is based in the K9 email client, which supports IMAP, POP3 and Exchange 2003/2007 (with WebDAV) so it works with Gmail, Exchange, Yahoo, Outlook, iCloud, and Office 365. MailFon inherits all the features that the mentioned system has:
Unified Inbox.
Multiple email Accounts.
Download attachments.
Secure email with a PGP enhancement.
Instant push notifications for all types of email
Custom Synchronization settings for fetching email messages and notifications.
Works with all types of email: Gmail, Yahoo Mail, Outlook, iCloud, Google Apps, Microsoft Exchange, Office 365, AOL, GMX and other IMAP accounts.
Search over all the messages.
The only difference is that we have included ads inside the app in order to maintain our VoIP servers. We are sorry about it, but it has been the most transparent way to provide this VoIP service for the end users.