Our web application to edit images images and photos with advanced drawing features, effects and filters. App available in our cloud hosted platform: 
PaintMagick is image editor online that lets you create, edit images using HTML5 technologies. No need to buy, download, install or have obsolete flash. It operates directly in the browser. You can create images, paste from clipboard (ctrl+v) or upload from computer (using menu or drag & drop). Everything stays in your web browser.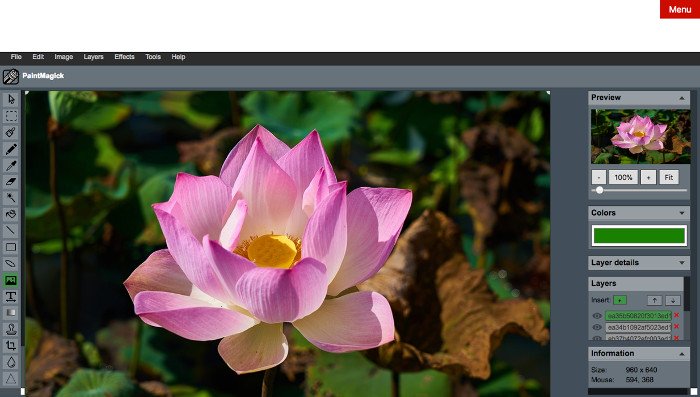 Main Features:
Files: open images, directories, URL, drag and drop, save (PNG, JPG, BMP, WEBP, animated GIF, JSON (layers data), print.
Edit: Undo, cut, copy, paste, selection, paste from clipboard.
Image: information, EXIF, trim, zoom, resize (Hermite resample, default resize), rotate, flip, color corrections (brightness, contrast, hue, saturation, luminance), auto adjust colors, grid, histogram, negative.
Layers: multiple layers system, differences, merge, flatten, Transparency support.
Effects: Black and White, Blur (box, Gaussian, stack, zoom), Bulge/Pinch, Denoise, Desaturate, Dither, Dot Screen, Edge, Emboss, Enrich, Gamma, Grains, GrayScale, Heatmap, JPG Compression, Mosaic, Oil, Sepia, Sharpen, Solarize, Tilt Shift, Vignette, Vibrance, Vintage,
Tools: pencil, brush, magic wand, erase, fill, color picker, letters, crop, blur, sharpen, desaturate, clone, borders, sprites, key-points, color to alpha, color zoom, replace color, restore alpha, content fill.
Help: keyboard shortcuts, translations.