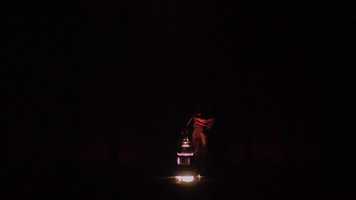 This is the free video Lucifer Landing II that can be downloaded, played and edit with our RedcoolMedia movie maker MovieStudio free video editor online and AudioStudio free audio editor online
VIDEO DESCRIPTION:
Play, download and edit the free video Lucifer Landing II.
Lucifer Landing is a two-part series of works
conceptualizing Blackness and the geopolitical,
specifically post- anthropocentrism.
In Lucifer Landing I, González takes the ideas of poet
June Jordan and CHARAS as starting points to create
an immersive environment in PS1's VW Dome, which
is intended to function as an interactive model for
sustainable living. Active in the Lower East Side during the
1970s, CHARAS was a collective founded on the ideas
of Buckminster Fuller, proposing geodesic domes as an
alternative model for social housing. Over the course of
two days on April 19 and 20, González invites visitors to
enter this environment one at a time — surrounded by
a sonic-responsive lighting design and original libretto
referencing celestial cosmologies. In this work, González
proposes that solitary dwelling within this space can be
considered a choreographic action unto itself. Lucifer
Landing I will offer visitors a contemplative space to
consider what they term "the entanglements between
the state of dispossessed non-being that is Black life
with the non-human and the architectural." This extended
exploration concludes on Sunday, April 21 with a
choreographic representation of self-immolation.
Lucifer Landing II, presented in Abrons Arts Center's
Playhouse Theater, attempts to exhaust mechanisms of
the 'epic' in human innovation and theatrical invention
through the form of classical opera to fathom an end to
idealizations of the 'human', and the possibility of living and
dying well in this contemporary time.
SOUND DESIGNERS
Rena Anakwe, Johann Diedrick ,GENG,
and Jeremy Toussaint-Baptiste
SET DESIGNERS
Jonathan González, Pamela Liou,
and Rena Anakwe
VIDEO DESIGN
Pamela Liou
LIGHTING DESIGN
Rudy Gerson
PROJECT MANAGER & ADMINISTRATIVE PARTNER
Nadia Schwartz Tykulsker
FOOTAGE FILMMAKERS
Pamela Liou, Rudy Gerson, and Chris Cameron
PERFORMERS
Jonathan González, Face the Music, and Studio 57
MUSICIANS
STUDIO 57 & FACE THE MUSIC
Anna Yeh - Pianist
Roman Lafia - Saxophonist
Tiyon Hargrove - Percussionist
Austin Celestin - Trumpet/Composer
Taja Graves-Parker - Trombonist
LUCIFER LANDING LIBRETTO
i. OVERTURE
I. MARS : FIRE : TETRAHEDRON
There is a barren beige opening
A making of silt and sod
making up the wasteland
"I" am no longer necessary as no one is
in sight
Perhaps "I", too, do not exist
And for that, I speak in we
We, of objects, of alliterations, of architectures breathing
Pulsing of fractal imageries and quelching climaxes
A cough is less a disturbance
More a sign of life
– accidents as natural, as nature, as
none
Home, Home, Home, is what dreams
concoct
Lullabies of easy rocking under cotton
knit and mother's milk
Mmh, mhmhmhm
No embrace precludes the trappings of
material life
Bodies of scorn, sequestered, undone
for the maturation of man,
He
The original sin
Made in the eye of a God,
Let us be forsaken
As none of us ARE good,
Nor innocent?
I am a mirage
Make me dance and drink and fuck
Until preoccupations confuse me to
believe in self-control
In autonomy
In love mused in the manifestations of
mine alone,
Naivete will be the death of the angelic
And the wicked
No martyrs remain in the bondage of
contemporary life,
The bitter feedback of solemnity reveal
unto me that I have been another fool
of hope, hope, hop, pop
Fool to the hallmark of the commons
How would I not see the price tag attached to the appendages of my flesh?
To the whom of my grandmother's
ovaries?
To the saplings bred from the seeds
scented of salt and thatch
And cane once grounded in the follicles
of her hair?
We, as in now, remain in the tumult
Amnesia is steady like the boil of tea
Drink up, sweety
A chronicle, A litany of nothing
I need to touch your touch touching me
How real am I under here
the touch touches tucking back like
folded newspapers or
a tuft of hair or
rubber band balls, the core broke,
knotted entangled waste.
Can we find the waste?
Can we unravel the knots or can the
cannots
or do nothing at all, is it working?
The reminding tumble you can
hear it you can't hear it when you can't
feel it
if it's touching us.
How close to an understanding of
unraveling toothpaste tubes
would actually help unjam
the soda machine? The scientific method teaches us this much:
To ask lots of questions.
There are no bad questions, only
good fucks
It's always good for whom to have more
information?
You can never do enough research
when you already know
you're dead and dying.
Is my colon showing?
If they died yesterday would we be at
our funeral?
Can caring less do more?
Can the tree hear me?
Can the cheese remember her mother's
udder?
Don't forget me.
I already forgot
you hurt my heart
Enter me
Enter me Enter me
Enter me Enter me Enter me
Rudy Gerson and Jonathan González:
II. Mercury: Earth : Cube
III. Saturn : Air : Octahedron
IV. Venus : Water : Icosahedron
V. Jupiter : Ether : Dodecahedron
ii. EPILOGUE
Download, play and edit free videos and free audios from Lucifer Landing II using RedcoolMedia.net web apps