Collection of Solitaire games like Aces Up, Agnes, Alternations, Baroness, Bisley, Canfield, Klondike, Double Klondike. App available in our cloud hosted platform: 
Main features of this game are:
Over 30 complete games
Hi res full screen graphics
Unlimited undo
Automatic progress saving; start where you left off even after closing your browser
Statistics tracking Customizable card and background graphics
Togglable autoplay, automatic card flipping and animations
Freecell solver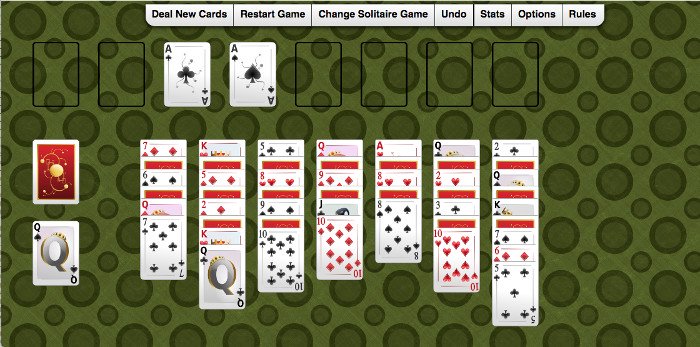 Solitaire games included are:
* Aces Up is a quick, very simple, and luck-based solitaire game. The goal is to discard everything that's not an Ace. The top card of each pile is free; any card that is the same suit and lower rank of another free card can be discarded by clicking it. Free spaces can be filled by any free card. Try to free up spaces whenever you have a chance and undo liberally if you see a better potential series of moves; even with these strategies this solitaire is rarely won. Its still an enjoyable time waster as games go be fast and there's little thinking involved.
* Alternations is a medium length solitaire game using two decks of cards. The game is won when all eight foundations are built up in rank and suit from Ace to King. Build the tableaus down in rank; suit does not matter. Full or incomplete face-up piles can be placed upon each other, and free spaces may be fill by any card. When you see no more moves available, click the top of the deck to move it to the waste, this card can be played on the foundations or the tableau.
* The aptly named Baker's Dozen is a fairly easy, yet thoughtful solitaire game. All Kings are automatically moved to the bottom of their respective stacks. Place any uncovered Aces on the foundations, which are built in suit to Kings. Stacks are built downwards in rank without regard to suit, but only one card at a time may be moved. Freed piles cannot be built upon. Be careful to plan ahead and not block any potential future moves, but since nothing is hidden and Kings start out moved out of the way, it's usually possible to win this game with a bit of foresight.
* Baker's Game is actually the stricter mother of the much more popular Freecell solitaire. The layout is the same, and the foundations are still built up from Aces to Kings in suit. Free slots can be filled by any card, and any pile in series can be moved as long as there are enough free cells and/or tableau openings. The twist is that stacks are built downwards in rank and suit, so you must plan much more carefully and be a bit luckier to free up slots in this game. Because of this, although harder, winning a game of Baker's Game feels extremely rewarding compared to Freecell.
* Baroness is a simple addition solitaire game. The game is won if you can manage to discard the entire deck. Any pair of cards equal to 13 can be discarded, and Kings can be discarded on their own. A unique aspect of this solitaire is that cards are automatically dealt from the deck to ensure there are at least five cards in play at all times. Free slots may be filled by any card, and in fact must be filled before clicking the deck to deal one card to each tableau pile. This solitaire game has fairly good odds of winning if you can discard in such a way as to consistently free up piles.
* Double Klondike plays exactly like Klondike, except for using two decks and having nine tableaus instead of seven. But because alot more moves are possible, its much easier to win at this solitaire. Build up the foundations in suit from Ace to King. Build tableaus downwards by alternating color. Free tableau spaces can be fill only by kings. Click the deck to deal three cards to the waste, the top of which is playable. Click the deck to move all cards from the waste back to the deck.
Instructions for the rest of the solitaire games are described inside the web apps.