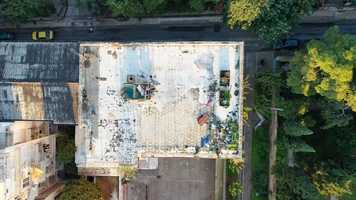 This is the free video The 5th School that can be downloaded, played and edit with our RedcoolMedia movie maker MovieStudio free video editor online and AudioStudio free audio editor online
VIDEO DESCRIPTION:
Play, download and edit the free video The 5th School.
Joshua Olsthoorn, Ελλάδα, 2020, 22'30"
Αγγλικά (χωρίς διαλόγους)
Ελληνική Πρεμιέρα
Η κατάληψη του 5ου Λυκείου ήταν στα Εξάρχεια. Το 2018 στέγασε περίπου 200 πρόσφυγες, κυρίως οικογένειες. Ήταν αυτοδιαχειριζόμενη, με τους κατοίκους-εθελοντές να μοιράζουν τρόφιμα που κάποιοι προσέφεραν και να βοηθούν στην κατάληψη. Οι εκπρόσωποι των ΜΚΟ δεν ήταν ευπρόσδεκτοι. Η αυτο-οργάνωση σήμαινε ότι ένας Σύριος πρώην εργάτης τεχνολογιών πληροφορικής εγκατέστησε το δίκτυο WiFi, ένας δάσκαλος Αραβικών από τη Συρία έδινε εβδομαδιαία μαθήματα και κάποιος που είχε σπουδάσει ξενοδοχειακά επαγγέλματα στη Δαμασκό εργαζόταν στην κουζίνα. Η κατάληψη εκκενώθηκε τον Σεπτέμβριο του 2019. Μεταξύ των 143 μεταναστών που εκδιώχθηκαν ήταν γυναίκες και παιδιά από το Αφγανιστάν, το Ιράν, το Ιράκ και τη Συρία. Μεταφέρθηκαν στο κέντρο φιλοξενίας της Κορίνθου. Οι σύλλογοι γονέων αλλά και καθηγητές ζήτησαν την επιστροφή 12 παιδιών που απομακρύνθηκαν από τα τοπικά σχολεία.
«Η ταινία αυτή αντικατοπτρίζει τον τρόπο με τον οποίο "τα πολιτικά σχέδια" διαμορφώνουν εμάς και το περιβάλλον μας… Θέλοντας να επιβάλει μια τέτοια σκέψη σε οποιονδήποτε δραστηριοποιείται στη βιομηχανία της παραγωγής εικόνας, η ταινία αυτή προσπαθεί να χρησιμοποιήσει συνήθη κεφαλαιοκρατικά τεχνολογικά συστήματα ενάντια στις προκαθορισμένες λειτουργίες τους. Χρησιμοποιώντας ένα μη επανδρωμένο εναέριο όχημα ή drone, το απόλυτο Machine-eye ή το Kino-eye, για να θυμηθούμε τον Diziga Vertov, θα μπορούσε κανείς να «φανταστεί» τον εαυτό του να ανοίγει κλειστούς χώρους. Γνωρίζοντας ότι τα σημερινά τεχνολογικά συστήματα χρησιμοποιούνται κατά κύριο λόγο εναντίον της ανθρωπότητας, πρέπει να επανασχεδιάσουμε τον τρόπο με τον οποίο τα εξετάζουμε. Η ταινία αυτή ίσως να φαίνεται απλά ένα μελαγχολικό ντοκουμέντο για ότι απέμεινε από ανθρώπους που εκτοπίστηκαν βίαια, αλλά θα μπορούσε από την άλλη πλευρά να αποτελέσει και ένα εργαλείο για μια εκ νέου μέτρηση της αλληλεγγύης. Θα μπορούσε άραγε το Machine-eye του μέλλοντος να μας βοηθήσει να απελευθερωθούμε από την ανθρώπινη μικροψυχία και να εξετάσουμε περαιτέρω το πώς διαμορφώνουμε την ύπαρξή μας;»_Joshua Olsthoorn
Joshua Olsthoorn, Greece, 2020, 22'30"
English (no dialogues)
Greek Premiere
The squat of the 5th Lyceum School was located in the neighbourhood of Exarcheia, Athens. In 2018 it housed around 200 refugees, mainly families. It was self-managed, with residents volunteering to distribute food donations and to run the squat. Representatives of NGOs were not welcome. The self-organisation meant that a Syrian former information technology worker set up the WiFi network, an Arabic teacher from Syria gave weekly lessons and someone who studied hotel management in Damascus worked in the kitchen. The squat was evicted in September 2019. Amongst the 143 evicted migrants were women and children from Afghanistan, Iran, Iraq and Syria. They were taken to the Corinth camp, south of Athens. Parents' associations as well as teachers demanded the return of 12 children who were taken out of local schools.
"This film reflects on how 'political designs' are shaping our environment and us… Applying such thought on anyone active in the industry of image production, this film tries to use typical capitalistic-tech-apparatus against their pre-designed functions. Using an unmanned aerial vehicle, or drone, the ultimate Machine-eye or Kino-eye to think of Diziga Vertov, one could 'imagine' to open closed spaces. Knowing that today's tech-resources are handled mostly against humanity, we should redesign the way we look at resources. This film seems perhaps just a melancholic document about the remains of human subjects displaced by force, but could from the other hand also be a tool to re-measure solidarity. Could the Machine-eye of the future help us free us from human smallness and assist us to think further about how we layout our existence?"_Joshua Olsthoorn
➔ Urban Life ➔ Short
Download, play and edit free videos and free audios from The 5th School using RedcoolMedia.net web apps