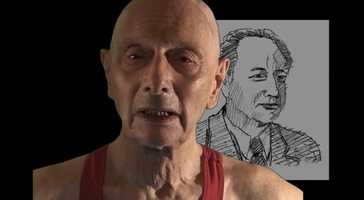 This is the free video NEW YORK SNIP348 Vicious Dogs that can be downloaded, played and edit with our RedcoolMedia movie maker MovieStudio free video editor online and AudioStudio free audio editor online
VIDEO DESCRIPTION:
Play, download and edit the free video NEW YORK SNIP348 Vicious Dogs.
New York City is not representative of United States of America in terms of ethnic diversity. All major cities in the USA are diverse – New Haven, Boston, Philadelphia, Baltimore to mention a few in the North-East alone. However the political muscle is weighted heavily by the non-diverse Mid-Western states. Most of the states bordering the Atlantic and Pacific Oceans are diverse, the East-coast connected across the Atlantic to the 2.5 billion European, African and Middle-East countries, the West-coast across the Pacific to the 6 billion populations of Asian countries.
On Tuesday this week I had an appointment with a 50 year old male cardiologist here in New York. His name Furqan Tejani. I asked him
"Are you Pakistani or Afghan?"
"Yes, I'm from the Middle-East region."
On his staff were three assistants present in the small examination room working on their separate laptop computers in which they tapped the results of Dr Tejani's examination of me. Two young females, one Asian one Afro-American; a Latino male sat at my far left with his laptop on his lap checking my past health record.statistics. My daughter2 sat beside me. All basic ethnicities were represented here. This is New York City. This is why I am comfortable here and will not leave ever, in fact I will finally die here.
What will happen here in the USA on November 3rd 2020 will be referendum on whether this country's power struggles will succeed in continuing its colonial heritage of White supremacy with a basically Colored underclass, that has been its foundation for four centuries. Or will we find a peaceable productive balance that will continue to propel capitalist democratic USA forward with fairer wealth, education & justice equality on the European socialist democratic model, in spite of the both legislative and illegal efforts of the last 3.5 years of the Trump Republican Administration.
In the remaining five months, this administration will unleash a billion dollar disinformation campaign and pervert laws, constitution and morality to get its Senate and President reelected. The so-far mild political advertising, characterizing Biden as too old and mentally unstable for the job of US president, will explode in the coming months with investigations and lawsuits to demoralize the American electorate. Many of these actions will be covert, the Republican controlled Senate and the White House will block investigations until after the elections when it will be too late. This, I admit, is my pessimistic appraisal of how determined President Trump, the Attorney General Barr and the Republican Senate are in employing any and all means to perpetuate their control, and how profoundly threatened the White population is by the Coloring of America.
[Wikipedia] As of April 2020, Gallup Polling found that 31% of Americans identified as Democrats, 30% with Republican, and 36% as Independent. Additionally, polling showed that 46% are either 'Democrats or Democratic leaners' and 46% are either 'Republican or Republican leaners' when Independents are asked. In 2018, the number of competitive states was 10. Massachusetts was the most Democratic with 56% identifying as Democrat, while 27% as Republican. Wyoming was the most Republican, with 59% of residents identifying as Republican and 25% identifying as Democrat. Wyoming population is 0.6 and Massachusetts 7 million yet they both have two Senators to the US Congress. This translates in the Electoral College to one vote representing 600,000 residents in Massachusetts and 200,00 in Wyoming; Wyoming's 3 electors to 11 in Massachusetts.
Electors generally cast their vote for the winner of the popular vote. States political power controls the elections and the voting procedures and regulations of its counties. Rural counties with low populations often hold as much power as urban counties with greater populations. Of the 50 States, Republican State Senates lead with 31-19, and Republican State Governors with 26-24 majority mainly because of the sparsely populated mostly rural Mid-Western states.
Download, play and edit free videos and free audios from NEW YORK SNIP348 Vicious Dogs using RedcoolMedia.net web apps