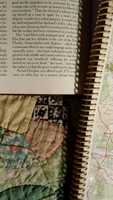 This is the free video Its Always A Prefect Night For Nine Hyper-Stitches In Time, second stitch that can be downloaded, played and edit with our RedcoolMedia movie maker MovieStudio free video editor online and AudioStudio free audio editor online
VIDEO DESCRIPTION:
Play, download and edit the free video Its Always A Prefect Night For Nine Hyper-Stitches In Time, second stitch.
I set to work on carving her this morning. I'm not as fast as I was in my younger days and sometimes I have to take breaks if I get too hot and place a wet rag on my forehead.
Even in my studio, which I keep cool and clean as marble, the Texas heat seeps through the windows. It was never so hot in Germany. Here the land is baked brown in summer, but I love the harshness and the huge skies of America. My husband, Edmund, loves it too.
When we left Europe years ago, I left my full name behind as well, the way someone leaves behind clothing or knick-knacks, sheds their excess: Franzisca Bernadina Wilhelmina Elisabeth Ney. I took only what I liked with me: Elisabet, sans 'h'. I enjoyed chopping off the 'h' and correcting people when they called me Elisabeth on accident. I kept my surname, too. My husband's surname never overwrote my own. He remains Edmund Montgomery and I remain Elisabet Ney. I would not have my name subsumed by another and he understands this.
He is a man of science and philosophy and respects my views, my art. He still beams when he introduces me, 'Have you met my wife, the celebrated sculptor?' He still looks at me with such admiration, ever since the day we met. Yet sometimes there are long silences between us. These days we'll be eating dinner and the only sound is the clatter of silverware on china or my knife sawing slices of brown bread from the loaf. We don't sleep well anymore. I want to ask him if he dreams of Lorne, like I do. If sometimes he wakes up and it's like something has gone rotten in his stomach, leaving a foul taste in his mouth.
I lift the chisel up and tap the end with a hammer. Her gown is starting to take shape. I've draped it across her shoulders, disheveled and crisscrossed, like it's about to come off. I want people to look at her and feel undone.
*
I break at lunchtime and eat brown toast with strawberry jam. My fingers go red with it.
My son, Lorne, used to love strawberry jam, less so my German cooking of cabbage and smoked meats. Lorne probably loved jam because the other children ate it too. He liked things that other people liked. In that way, he was not similar to his father or me at all. He begged me to stop dressing him in white togas, which I thought were the freest clothing for young boys. More room to run and play. But he pulled them off and told me he wanted to dress like the other little boys.
And why didn't I dress like the other mothers? Why did I wear an artist frock and heavy boots like a man? Why didn't I have the same name as his father?
I thought he would grow out of it. Soon, he would see how the other little boys and girls were caged up in their full skirts and waistcoats, the fabric telling their limbs that ladies move this way and men move that way. Their clothing instructing them how far they could raise their arms, how quickly they could run. My son was free. Free to tussle around in the mud in his light, airy clothes. He could be anything that he wanted, except ordinary for the sake of it.
As Lorne grew up, Edmund and I fought about him.
'Why don't you let him dress like the other boys,' Edmund begged. 'If we push too hard, Elisabet, we don't know what he will do.'
'We agreed to raise him like this,' I said.
'Yes, but it's driving him away,' Edmund said. 'We'll lose our son.'
I push the memory down, scrape my hands clean with a dishtowel. They're sandpaper, raw and strong. I never relented. Lorne slammed doors and ripped his clothes and threatened to move away. To never come back.
I throw the dishtowel on the floor. The plate full of crumbs I leave on the table. I'm through with work for the day.
Download, play and edit free videos and free audios from Its Always A Prefect Night For Nine Hyper-Stitches In Time, second stitch using RedcoolMedia.net web apps