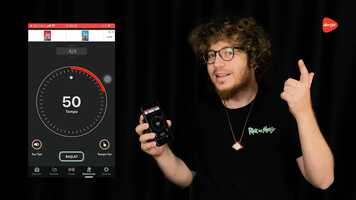 This is the free video Dersjet - Nasıl Kullanılır? Enstrmanını Akort Et, Dersleri İzle, Metronom ile Kusursuz alış that can be downloaded, played and edit with our RedcoolMedia movie maker MovieStudio free video editor online and AudioStudio free audio editor online
VIDEO DESCRIPTION:
Play, download and edit the free video Dersjet - Nasıl Kullanılır? Enstrmanını Akort Et, Dersleri İzle, Metronom ile Kusursuz alış.
Dersjet'i Hızlı indirmek için dersjet.com/ adresini ziyaret edebilirisiniz.
Dersjet iOS Download: apps.apple.com/us/app/ba%C4%9Flama-akort-ve-metronom/id1520458900?ign-mpt=uo%3D2
Dersjet Android Download: play.google.com/store/apps/details?id=org.umitates.baglamatuner
Bağlama Akort ve Metronom, kullanımı en kolay bağlama akort ve ders uygulamasıdır. Müzik Eğitimleri kategorisinde sunduğumuz içeriklere kısa süre içerisinde farklı kategorilerde eğitimlerimizi de eklemek için çalışmalarımız sürüyor. Ayrıca Dersjet, yeni nesil bir eğitim platformu olma yolculuğunda talep edilen her konuda alanının en iyi uzmanlarından yeni videolu dersleri de sunuyor olacak.
Yeni başlayanlar için de uzmanlar için de uygundur. Alışkanlıklarınızı referans alarak tasarlanmıştır. Metronom özelliğiyle hatasız çalışmalar yapabilirsiniz. Uygulama içi yardım bilgi kartlarıyla "Bağlama Akort" kullanımı hakkında yardım alabilirsiniz.
Hangi teli akort yaptığınızı anlamanız için bağlama burgularının resmine ve yeşil onay ışığına bakmanız yeterlidir.
Dersjet, uzun bir süredir YouTube kanalında "Bağlamada Akor Dersleri" ve "Uzun Sap Solfej Dersleri" konu başlıklarında içerikler üreten Ümit Ateş'in, türkülerimizi yeni nesile sevdirme, bağlama derslerini kolaylaştırma ve Türk Halk Müziği'ni daha geniş kitlelere duyurma amacıyla tasarladığı bir mobil uygulamadır.
Türkçe ve İngilizce dil akort seçenekleri ile sunulmuştur.
Lütfen Dikkat:
Enstrüman akordunu ilk kez yapıyorsanız, lütfen dikkatli olun. Başlamadan önce YouTube derslerini izlemeniz akort yapmanıza yardımcı olacaktır.
Uygulama içerisinde derslere erişebilmek için otomatik olarak yenilenen abonelikler bulunmaktadır. Ödeme, satın alma onayı ile iTunes Hesabından tahsil edilecektir. Otomatik yenileme, geçerli sürenin bitiminden en az 24 saat önce kapatılmadığı sürece abonelik otomatik olarak yenilenir. Cari dönemin bitiminden 24 saat önce hesap yenileme için ücretlendirilecek ve yenileme maliyetini belirleyecektir. Abonelikler kullanıcı tarafından yönetilebilir ve satın alma işleminden sonra kullanıcının Hesap Ayarlarına giderek otomatik yenileme kapatılabilir.
Baglama Tuner and Metronome is the easiest lesson application to use Baglama Tuner. We are working on adding our trainings in different categories to the content we offer in the Music Education category in a short time. In addition, Dersjet will be presenting new video lessons from the best experts in every subject requested in the journey of becoming a new generation education platform. The application automatically detects your phone and provides the most sensitive tuning. It is suitable for both beginners and experts. It has been designed by reference of your habits. With the metronome feature, you can work without errors. You can get help on using "Baglama Chord" with in-app help information cards.
It is enough to look at the picture of the augers of baglama and the green check light to see which string you're tuning.
Pay attention: If this is the first time you are tuning an instrument, please be careful. Before you get started, watching youtube tutorials will help you about tuning. Do you have suggestions for baglama lessons and chord application?
Baglama-Akkordeon und Metronom ist die am einfachsten zu bedienende App-Anwendung, die Schulungen anbietet. Wir arbeiten daran, unsere Schulungen in verschiedenen Kategorien in kurzer Zeit zu den Inhalten hinzuzufügen, die Sie in der Kategorie Musikpädagogik sehen können. Dersjet hat es sich zum Ziel gesetzt eine Bildungplattform für die junge Generation zu werden und Videokurse von den besten Experten zu veröffentlichen. Die App erkennt Ihre Saite automatisch und bietet das passende Akkordeon an. Des Weiteren ist die App sowohl für Anfänger als auch für Experten geeignet.
Die App bietet die Möglichkeit Ihr Baglama Akkord zu bilden und durch die zur Verfügung gestellten Lerninhalte mit dem Metronom uneingeschränkt zu üben. Des Weiteren sind in der App Hilfskarten vorhanden, die sowohl fachliche als auch praktische Anweisungen beinhalten, um NutzerInnen Unterstützungen anzubieten. Hierfür reicht es aus, wenn Sie das grüne Kontrolllicht verfolgen.
Dersjet veröffentlicht schon seit längerer Zeit YouTube Videos unter dem Titel "Bağlamada Akor Dersleri" und "Uzun Sap Solfej Dersleri". Die Vision von Ümit Ates lautet, der jungen Generation Volkslieder näherzubringen. Hierfür entwickelt Ümit Ates die App "Dersjet" und bereitet persönlich vereinfachte Lerninhalte vor. Es werden Tuner Optionen in türkischer, englischer und deutscher Sprache angeboten.
Bitte beachten Sie: Wenn Sie zum ersten Mal ein Instrument stimmen, ist es empfehlenswert sich zuvor YouTube- Tutorials anzuschauen. Wenn Sie Vorschläge oder Anregungen für Lerninhalte haben, würden wir uns freuen, wenn Sie diese mit uns teilen.
#dersjet #akort #metronom #nota #ders
Download, play and edit free videos and free audios from Dersjet - Nasıl Kullanılır? Enstrmanını Akort Et, Dersleri İzle, Metronom ile Kusursuz alış using RedcoolMedia.net web apps