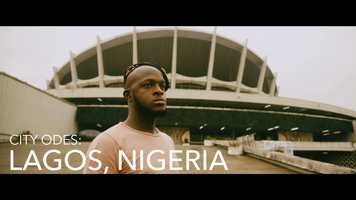 This is the free video City Odes | Eko ile | LAGOS, NIGERIA that can be downloaded, played and edit with our RedcoolMedia movie maker MovieStudio free video editor online and AudioStudio free audio editor online
VIDEO DESCRIPTION:
Play, download and edit the free video City Odes | Eko ile | LAGOS, NIGERIA.
CITY ODES | LAGOS, NIGERIA
"Eko ile"
A man straddles a love-hate relationship with Lagos in which he attempts to not only grasp both the intensity and comfort that the city has to offer, but also to embrace it as his home.
----
The City Odes Project is a passion project in which I collaborate with my composer, a poet and an actor to create a humanist, emotional, and visual story amidst the backdrop of a specific city. "Eko ile" is the second entry into this series and takes place in one of the most intense, vibrant, and overwhelming places I have ever been - Lagos, Nigeria.
The title "Eko ile" translates to "Lagos is home" in Yoruba, one of the primary languages in the country. For this piece, I wanted to capture the city in the language I encountered most when I was there - Pidgin English (which is sort of a local slang) as well as plain English, both of which my lead actor Jide Adewale (who also happens to be one of the producers) speaks as he narrates the poem. I wanted to create a character who personifies the feeling of living in Lagos in which the hustle is as real as it gets and the frenetic pace is nonstop. Lagos truly is one of a kind.
The final result here features the work of Ntongha Ekot - a Nigerian poet - who eloquently captures these push-and-pull feelings through her words, and my frequent collaborator John Corlis - an LA-based musician and composer - who complements the poetry with his emotional piano piece "Into the Atmosphere" from his latest album of the same title. My incredible producers Jide and Ella Utomi made it all happen by finding the locations, security and logistics; they took care of me during my memorable time there.
Please, enjoy this short poem video and my ode to Lagos.
----

filmed in Lagos, Nigeria.
January 2019.
directed, shot, edited by // Sheldon Chau
produced by // Ella Utomi, Jide Adewale
poem by // Ntongha Ekot (@ehn_tee)
starring, voiceover by // Jide Adewale
music composed by // John Corlis
shot on // Sony A7III, DJI Inspire 2
lenses // Canon 16-35mm f/2.8L, Canon 24-105mm f/4.0L, Zenmuse X7
edited, color graded on // Da Vinci Resolve 16.2
---
"Eko ile"
by Ntongha Ekot
(* indicates a brief translation below)
Haruna inside!*
He called out.

I raise my hand and flag him down

Don't waste my time, I hear as I jump into the moving Tricycle.
This city...

I've learnt to swallow my pride just to get to my destination on time.

You'd be crazy to think your pride will get you anywhere.

Not here.

Not this land.

This land thrives on its ability to humble you

In the twinkle of an eye, it reduces a king to a beggar

It throws you off your horse and brings you down to your knees.
It is... Toxic.
But, the night life

O mad sha

Na here life dey happen

Where I fit call my guys up like, "guy, I dey go Quillox, just block me for 1004 make we linkup"

You know as e dey be na.
*
The early morning rush to get that special ewa agoyin from Iya sikira*
before I make my way down to the office,

the herd of able bodied men arguing about politics at the vendor's stand,

the four lanes on a two lane road.
It is madness!
The noise of cars honking is music to my ears
It makes me smile.
This is what I live for!

One wide stage

An ever ready cast

Same characters

Different roles.

It is a movie of its own.

Some may call it shithole

That wan na their business

For me, it's an ADVENTURE

Lagos no bad at all joor.*
Then I step out and on cue, it hits me

The sea of humans flowing past and engulfing me in an embrace I really don't want

I'm trying to get away
To a place where I can breathe.

I look to the sky

If there really is space for us all to fly

Then why is the sky empty

And the earth, overflowing

I say I'm going home.

But I have no other home.

This is my land.

Mo ti ha (I'm stuck)
But, I won't let it break me

Though the vastness of this sea may try to drown me out.
It's the survival of the fittest.

This may not be how I planned my life.

But, I will live it to the fullest.
Somedays I want to run away

Somedays I'll be the first to say "it's not worth it"
Somedays I'll even swear that I'm going to escape.
But, this is my land

Eko ile.

My parents conquered

And so will I.
---
Translations:
* 'Haruna' is a neighborhood in Ogba, Lagos.
* 
O mad sha.... You know as e day be na.
(It's really crazy though)
(This is where life happens)
(Where I can call my guys up and say, "Hey, I'm going to Quillox [a popular night club], let's meet up at 1004 [the address] so we can chill and have fun")
* The early morning rush to get that special ewa agoyin from Iya sikira
(Ewa Agoyin is a popular street food dish. Iya Sikira is a popular vendor that serves this dish.)
* Some may call it shithole

That wan na their business
(But I don't care what they think)

For me, it's an ADVENTURE

Lagos no bad at all joor.
(Lagos is not bad at all.)


---
/ City Ode #2
Download, play and edit free videos and free audios from City Odes | Eko ile | LAGOS, NIGERIA using RedcoolMedia.net web apps