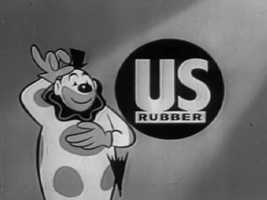 This is the video Keds Shoes Commercial: Kedso the Clown ~ 1958 US Rubber; Animated Cartoon that can be downloaded, played and edit with our RedcoolMedia movie maker MovieStudio video editor online and AudioStudio audio editor online
VIDEO DESCRIPTION:
Play, download and edit the video Keds Shoes Commercial: Kedso the Clown ~ 1958 US Rubber; Animated Cartoon.
Support this channel: paypal.me/jeffquitney OR patreon.com/jeffquitney
more at quickfound.net/
'Animated Kedso the clown character leads the Keds shoe song...'
Originally a public domain film from the Library of Congress Prelinger Archives, slightly cropped to remove uneven edges, with the aspect ratio corrected, and one-pass brightness-contrast-color correction & mild video noise reduction applied.
The soundtrack was also processed with volume normalization, noise reduction, clipping reduction, and/or equalization (the resulting sound, though not perfect, is far less noisy than the original).
en.wikipedia.org/wiki/Keds
Wikipedia license: creativecommons.org/licenses/by-sa/3.0/
Keds is an American brand of canvas shoes with rubber soles. Founded in 1916, the company is owned by Wolverine World Wide. The original shoe design, the Champion, was the first mass-marketed canvas-top "sneaker."...
In 1916, U.S. Rubber consolidated 30 different shoe brand names to create one company. Initially, the brand name "Peds" was chosen for the company from the Latin word for feet, but the name was already trademarked. Keds was founded in 1916 and was later acquired by Stride Rite Corporation.[4][5] Because the shoes had a soft rubber sole, they became known as sneakers as the rubber soles allowed "sneaking around silently".[6][7][8] By the early 1920s, the shoes were worn by Olympic soccer players, national and international tennis champions, and college athletes.[9] In 1926, the Keds Triumph shoe was introduced.[10]
1930–2000
Keds released "Kedettes", a line of washable high-heeled shoes for women, in 1938. In 1949, Pro-Keds were introduced as a line of sneakers designed for athletic performance. Designed specifically for basketball players, the original style, the Royal Tread, was endorsed by George Mikan. In 1953, the Minneapolis Lakers were outfitted with Pro-Keds. Pro-Keds were intended to compete with the industry standard, Converse. Pro-Keds were worn by NBA stars including Willis Reed, Kareem Abdul-Jabbar, Nate "Tiny" Archibald, JoJo White, Bob Love, Lou Hudson, Bob Lanier and "Pistol" Pete Maravich, as well as music icons, The Ramones. The shoe earned cult status in the hip-hop community by the late 1970s.
Stride Rite Corporation purchased Keds and Sperry Top-Sider from Uniroyal in 1979 for $18 million.
From the mid-1980s to the mid-1990s, Keds were very popular and fashionable with girls from elementary school age through college age and adults. Some popular ways Keds were worn included with slouch socks over leggings and an oversized sweater especially a V-neck style alone or with a turtleneck underneath, a sweatshirt or turtleneck under a sweatshirt combo or a long tee shirt, or shortalls over a long or short sleeved tee. Moms wore these same leggings and shortalls outfits with their Keds too. Also, Keds worn with a babydoll or skater dress and bike shorts or knee length leggings or white slouch socks over black tights. Or slouch socks over skinny jeans. And many other styles.
Many cheerleaders also wore Keds as part of their uniform during the mid 80's to the mid 90's.
In the 1990s, Demi Moore voiced a television campaign for Keds. Mischa Barton, who starred in The O.C., became the face of Keds in an ad campaign in the late 2000s.
Post-2000
In January 2012, Rick Blackshaw was appointed brand president of Keds. Collective Brands Inc., the parent company of Stride Rite Corporation and Keds, was acquired by Wolverine World Wide for $1.32 billion in May 2012. In September 2014, Chris Linder, former CMO and senior vice president of business development for Sperry Top-Sider, became president of Keds.
Keds launched the "Ladies First Since 1916" campaign in July 2015, which focuses on female empowerment and featured celebrities including Taylor Swift. In 2016 Keds celebrated its centennial and the continuation of its "Ladies First Since 1916" campaign with a birthday celebration held during New York Fashion Week. The company also announced that its shoe manufacturing was moving to Michigan, in the U.S. for the first time in 35 years...
Free download, play and edit video and audio from Keds Shoes Commercial: Kedso the Clown ~ 1958 US Rubber; Animated Cartoon using RedcoolMedia.net web apps