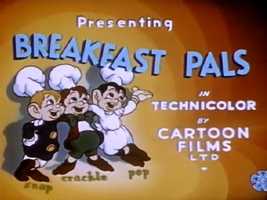 This is the free video 1st Rice Krispies Commercial?: Breakfast Pals 1939 Cartoon Films, in Technicolor, for W.K. Kellogg that can be downloaded, played and edit with our RedcoolMedia movie maker MovieStudio free video editor online and AudioStudio free audio editor online
VIDEO DESCRIPTION:
Play, download and edit the free video 1st Rice Krispies Commercial?: Breakfast Pals 1939 Cartoon Films, in Technicolor, for W.K. Kellogg.
Support this channel: paypal.me/jeffquitney OR patreon.com/jeffquitney
more at quickfound.net/
Originally a public domain film, slightly cropped to remove uneven edges, with the aspect ratio corrected, and one-pass brightness-contrast-color correction & mild video noise reduction applied.
The soundtrack was also processed with volume normalization, noise reduction, clipping reduction, and/or equalization (the resulting sound, though not perfect, is far less noisy than the original).
en.wikipedia.org/wiki/Will_Keith_Kellogg
Wikipedia license: creativecommons.org/licenses/by-sa/3.0/
Will Keith Kellogg, generally referred to as W.K. Kellogg (April 7, 1860 – October 6, 1951), was an American industrialist in food manufacturing, best known as the founder of the Kellogg Company, which to this day produces a wide variety of popular breakfast cereals...
Early career
As a young businessman, Kellogg started out selling brooms, before moving to Battle Creek, Michigan, to help his brother John Harvey Kellogg run the Battle Creek Sanitarium. The Sanitarium, originally the Western Health Reform Institute, was part of a pioneering effort based on the health principles advocated by the Seventh-day Adventist Church. John Kellogg described the Sanitarium system as "a composite physiologic method comprising hydrotherapy, phototherapy, thermotherapy, electrotherapy, mechanotherapy, dietetics, physical culture, cold-air cure, and health training". The Kelloggs pioneered the process of making flaked cereal. Because of the commercial potential of the discovery, Will wanted it kept a secret. However, John allowed anyone in the sanitarium to observe the flaking process and one sanitarium guest, C. W. Post, copied the process to start his own company. That company became Post Cereals and later General Foods, the source of Post's first million dollars. This upset Will to the extent that he left the sanitarium to create his own company.
Kellogg cereals
With the help of his brother John, Will Kellogg promoted cereals, especially corn flakes, as a healthy breakfast food. They started the Sanitas Food Company around 1897, focusing on the production of their whole grain cereals. At the time, the standard breakfast for the well-off was eggs and meat, while the poor ate porridge, farina, gruel and other boiled grains. The brothers eventually argued over the addition of sugar to their product. In 1906, Will founded the Battle Creek Toasted Corn Flake Company, later becoming the Kellogg Company...
en.wikipedia.org/wiki/Rice_Krispies
Rice Krispies (also known as Rice Bubbles in Australia and New Zealand) is a breakfast cereal marketed by Kellogg's in 1927 and released to the public in 1928. Rice Krispies are made of crisped rice (rice and sugar paste that is formed into rice shapes or "berries", cooked, dried and toasted), and expand forming very thin and hollowed out walls that are crunchy and crisp. When milk is added to the cereal the walls tend to collapse, creating the "Snap, crackle and pop" sounds.
Rice Krispies cereal has a long advertising history, with the elf cartoon characters Snap, Crackle and Pop touting the brand. In 1963, The Rolling Stones recorded a short song for a Rice Krispies television advertisement...
Background
Rice crispies are made by the Kellogg Company. The "Snap, Crackle and Pop" slogan was in use by 1939 when the cereal was advertised as staying "crackly crisp in milk or cream...not mushy!" with claims that the cereal would remain floating (without sinking to the bottom of the bowl) even after 2 hours in milk. They were not a shredded or flaked cereal type, but were instead created by a patented process that Kellogg's called "oven-popping".
The original patent called for using partially dried grain, which could be whole or broken, that would have 15-30% moisture which could then be shaped by existing processes for cereal production that include rolling, flaking, shredding, etc. After being processed to the desired shape the grain is dried to around 5-14% moisture content at which stage the grain will expand when subjected to a high temperature creating a light, low-density product that is crisp and easy to chew...
Download, play and edit free videos and free audios from 1st Rice Krispies Commercial?: Breakfast Pals 1939 Cartoon Films, in Technicolor, for W.K. Kellogg using RedcoolMedia.net web apps