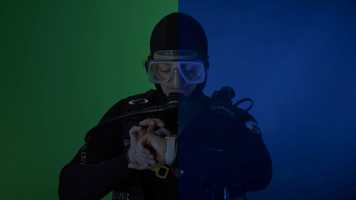 This is the video Shark Survival | VFX Breakdown that can be downloaded, played and edit with our RedcoolMedia MovieStudio video editor online and AudioStudio audio editor online
VIDEO DESCRIPTION:
Play, download and edit the video Shark Survival | VFX Breakdown.
This is the VFX breakdown of how I shot an underwater short in the comfort of my garage.
When the Filmstro and Filmriot One Minute Short competition came across my radar I had thought of this idea for a spec spot that was entirely underwater. I had no idea how to pull that off, or if it would work but I decided to just go for it and have faith that somehow it would come together.
Planning: I drew some storyboards on paper, scanned them into my computer and brought them into AE to cut them up and bring them to life. My main goal for this was to see if I could sell the joke in 15 seconds. The timing had to be spot on.
Shoot: I shot this with a borrowed GH5 (Thank you Caitlin!) and my pop up green screen and 3 Neewer LED lights (2 of which died during the shoot... lunch break!). I had one diffusion cloth, and a blue gel for just a little bit of color. I acted as the scuba diver and my amazing wife operated the camera for me. Thank you Carla!
I made sure to keep in mind my limitations for the shoot. Limit the time I show a full body shot, and make sure to cover my hair. No way would I have been able to simulate underwater hair.
Side note, I had to rent the scuba gear with a fake oxygen tank since Im not a licensed scuba diver. Turns out, when you cover your nose with goggles, and your oxygen tank is not real, you cant actually breathe in. So for every take I took a BIG deep breath and hit as many takes as I could before I ran out of air!
VFX: I took all of my footage into AE and just started layering in different elements until it felt right to me. I used a lot of Red Giant tools because theyre probably the best vfx tools out there. I bought stock footage from Pond5 for the background, the oxygen bubbles, and some of the floaty stuff in the water (combined with some trapcode particles). All of which were manipulated in AE.
For the wide shot I did shoot a shot of my trying to hang from a shelving unit in my garage and dangle my legs, but my legs didnt have the resistance they needed and shooting that just about killed my hands. So instead I took a free generic human rig and modeled some basic flippers for the feet. Then I rigged those up and animated the legs. As you can see in the breakdown, I cut my real legs off, and took the CG legs from the rig and combined them to sell the floating/underwater effect.
For the shark, again I found a free model (which is amazing how great it looks for being free) but it wasnt rigged. So i rigged it myself in a very very basic way. Im no rigger, so I did only what I knew I would need. Then I animated, lit and rendered it, brought it into AE and kept layering stuff in. My specialty is animating, so a lot of the other stuff I was totally winging.
Eventually, the spot felt right to me visually so I continued on with Audio. For Audio I used a combination of Soundly for the sound effects and Filmstro for the music (as the rules dictated in the competition).
In the end, to my total surprise, this spec spot won the grand prize (Best Film) in the competition. It was an amazing experience and I learned a ton making this. I hope this give you guys some insight into how I made it! Thanks for checking it out!
Total Budget: $185
Stock Footage: https://www.pond5.com/
Generic Man Rig: https://gumroad.com/truongcgartist
Shark Model: https://animationmethods.com/
Another Special thanks to my sister Stephanie for watching my kids so I could make this uninterrupted (other than my lights dying).
*this spec spot was in no way sponsored/financed by Apple. I think Apple would have a bigger budget than $185. It was just an idea I had, that fell in line with the product and I thought it was funny. So I made it.
Free download, play and edit video and audio from Shark Survival | VFX Breakdown using RedcoolMedia.net web apps