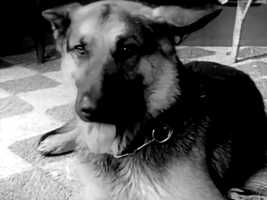 This is the free video Police Dogs In Action ~ 1965 Stanford University that can be downloaded, played and edit with our RedcoolMedia movie maker MovieStudio free video editor online and AudioStudio free audio editor online
VIDEO DESCRIPTION:
Play, download and edit the free video Police Dogs In Action ~ 1965 Stanford University.
Support this channel: paypal.me/jeffquitney OR patreon.com/jeffquitney
more at quickfound.net/
'Story of San Mateo County deputy sheriff Irv Fronsky and his German Shepherd police dog, Hero, as they search for a missing child, Suzanne... A profile of Police Dogs, how they are trained, and what happens when they are off the job.'
Originally a public domain film from the Library of Congress Prelinger Archives, slightly cropped to remove uneven edges, with the aspect ratio corrected, and one-pass brightness-contrast-color correction & mild video noise reduction applied.
The soundtrack was also processed with volume normalization, noise reduction, clipping reduction, and/or equalization (the resulting sound, though not perfect, is far less noisy than the original).
en.wikipedia.org/wiki/Police_dog
Wikipedia license: creativecommons.org/licenses/by-sa/3.0/
A police dog, known in some English-speaking countries as a "K-9" or "K9" (a homophone of "canine"), is a dog that is specifically trained to assist police and other law-enforcement personnel. Their duties include: searching for drugs and explosives, locating missing people, finding crime scene evidence, and attacking people targeted by the police. Police dogs must remember several verbal cues and hand gestures. The most commonly used breeds are the German Shepherd Dog, Belgian Malinois, Bloodhound, Dutch Shepherd, and Retriever breeds. Recently, the Belgian Malinois has become the dog of choice for police and military work due to their intense drive and focus. Malinois are smaller and more agile than German Shepherd Dogs, and have fewer health issues. However, a well-bred working line German Shepherd Dog is just as successful and robust as a Malinois.
In many countries, the intentional injuring or killing of a police dog is a criminal offense...
One of the first attempts to use dogs in policing was in 1889 by the Commissioner of the Metropolitan Police of London, Sir Charles Warren. Warren's repeated failures at identifying and apprehending the serial killer Jack the Ripper had earned him much vilification from the press, including being denounced for not using bloodhounds to track the killer. He soon had two bloodhounds trained for the performance of a simple tracking test from the scene of another of the killer's crimes. The results were far from satisfactory, with one of the hounds biting the Commissioner and both dogs later running off, requiring a police search to find them.
It was in Continental Europe that dogs were first used on a large scale. Police in Paris began using dogs against roaming criminal gangs at night, but it was the police department in Ghent, Belgium that introduced the first organized police dog service program in 1899. These methods soon spread to Austria-Hungary and Germany; in the latter the first scientific developments in the field took place with experiments in dog breeding and training. The German police selected the German Shepherd Dog as the ideal breed for police work and opened up the first dog training school in 1920 in Greenheide. In later years, many Belgian Malinois dogs were added to the unit. The dogs were systematically trained in obedience to their officers and tracking and attacking criminals.
In Britain, the North Eastern Railway Police were among the first to use police dogs in 1908 to put a stop to theft from the docks in Hull. By 1910, railway police forces were experimenting with other breeds such as Belgian Malinois, Labrador Retrievers, and German shepherds...
Training of police dogs is a very lengthy process since it begins with the training of the canine handler. The canine handlers go through a long process of training to ensure that they will train the dog to the best of its ability. First, the canine handler has to complete the requisite police academy training and one to two years of patrol experience before becoming eligible to transfer to a specialty canine unit. This is because the experience as an officer allows prospective canine officers to gain valuable experience in law enforcement. However, having dog knowledge and / or training outside of the police academy is considered to be an asset, this could be dog obedience, crowd control, communicating effectively with animals and being approachable and personable since having a dog will draw attention from surrounding citizens.
For a dog to be considered for a police department, it must first pass a basic obedience training course. They must be able to obey the commands of their handler without hesitation. This allows the officer to have complete control over how much force the dog should use against a suspect...
Download, play and edit free videos and free audios from Police Dogs In Action ~ 1965 Stanford University using RedcoolMedia.net web apps