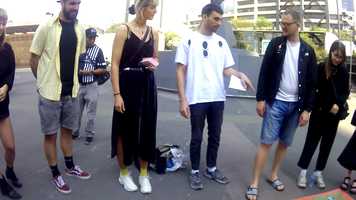 This is the free video NONOKI LERP Gameplay 1 2019 CDMX that can be downloaded, played and edit with our RedcoolMedia movie maker MovieStudio free video editor online and AudioStudio free audio editor online
VIDEO DESCRIPTION:
Play, download and edit the free video NONOKI LERP Gameplay 1 2019 CDMX.
Nonoki is a LERP (Live Experience Role Play) table top board game that can be played
by 2 - 22 players. The game has the potential to be played every day, but it is best to structure
the game into campaigns lasting 1, 3, 5, 7, or 10 days. If you decide to play it for a longer duration
it is best to break the gameplay into segments with breaks in between. Each day of the gameplay campaign consists of an opening ceremony where the board game is used, and 4 hours of LERP that is determined by the events of the opening ceremony. After the LERP it is recommended that the players meet at the site of the opening ceremony to close out the days event. In the closing ceremony there is the opportunity for ritual
representations to be played out by players. These ritual representations display the days LERP experience of the player.
Each game campaign requires at least one SenTech employee present as game-master to oversee the game and to explain rules when necessary.
This set of instructions is addressed to the ghost. If you are an avatar or do not know what a ghost or an avatar means, here is a short introduction to get you familiarized.
A ghost is an Anacriptist from the planet Arkwelpsat Peigytrofa who, through SenTechs patented NeuralLink technology, are able to link into a human avatar (possibly you) who has consented to playing Nonoki. The link is made through the amulet which is used during gameplay. This amulet is the spiritual, social and individual embodiment of the Anacriptist ghost that it represents. There are a number of amulets already
available that you may use for gameplay to host one of the already playable character Anacriptist ghosts. If you would like to host a different character, it is up to you to link the bond. In order to do this you must first understand who your character is. By this intention alone you will be able to accumulate a very generic set of character traits that when accumulated will vaguely represent your character.
The traits you must decide on are:
Mains (significant characteristics)
Skill: one thing that your character is specifically trained in
Phobia: one thing that your character is afraid of / repulsed by
Quirk: one thing that only your character would do
Basics (common characteristics)
3 common character traits
These traits will then lead you to being able to craft your amulet. In order to ensure maximum link, you must also, when designing your amulet, hybridize your own ancestral, social, and individual character with that of your characters. The size of the amulet that SenTech has determined to be most ideal for this link is 10cm by 10cm by 1cm. Your amulet must be durable enough to last through the gameplay campaign. It must also be wearable as you will need to have it on your body throughout your LERP.
Every space on the board will include at minimum one ritual one location and one method. If there is nothing printed on the space other than the method then you have the basic number of elements (1 ritual, 1 location, 1 method). Otherwise on your space you may find one or more of these variables printed on the boardgames itself:
ritual x2 (choose two rituals)
ritual x3 (choose three rituals)
location x2 (choose two locations)
location x3 (choose three locations)
Fortune (pick up a fortune card)
Handicap (pick up a handicap)
A ritual card designates the action that you are to carry out
A location card designates the location where the ritual will take place
A fortune card is a piece of wisdom specifically for you
A handicap card removes a capability which is designated on the card
A method is any one of the following: object interpretations of actions:
Illustration, Sculpture, Photo, Sound, Language, Choreography or wild
At the end of your turn replace your amulet with your token and return your amulet to the place where it is worn on your avatars body.
The LERP Experience
The LERP is what takes place once your days opening ceremony has come to an end and all cards methods and mages
have been distributed and understood. Before your LERP make sure that you understand how to proceed. It may be necessary
to refer to this text or to your SenTech employee.
explain the leap in detail
Preceding days of gameplay
For all other days of gameplay, your starting location is on the space where your amulet was moved to in the previous
days game.
Once the campaign is done, characters have a specified amount of time (hours or days) given by their employee(s) in order to formalize the rituals from the preceding days into a presentable model or models. In this time LERP persists but the game board play does not. In this time there are no longer opening ceremonies. Players are able to work where they would like or need during this time. The model(s) will be presented in a location of the SenTech employee(s) choosing after the events of the closing ceremony.
Download, play and edit free videos and free audios from NONOKI LERP Gameplay 1 2019 CDMX using RedcoolMedia.net web apps