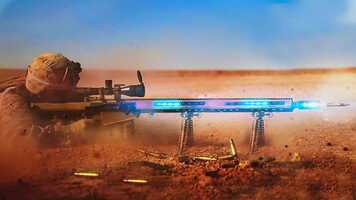 This is the free video Most INSANE Rifles In The World! that can be downloaded, played and edit with our RedcoolMedia movie maker MovieStudio free video editor online and AudioStudio free audio editor online
VIDEO DESCRIPTION:
Play, download and edit the free video Most INSANE Rifles In The World!.
Check out the most insane rifles in the world! This top 10 list of most powerful and coolest weapons has some of the strongest and biggest sniper rifles ever created!
Subscribe For New Videos! http://goo.gl/UIzLeB
Watch our "STRANGEST Things Found In The Ocean!" video here: youtu.be/XYfqi5VNgac
Watch our "STRANGEST Things Found In The Philippines!" video here: youtu.be/vwIIeiOhTJ0
Watch our "Most STRANGE Things Found On The Beach!" video here: youtu.be/cQjpze_4z5U
10. Steyr IWS 2000
This powerful weapon is made by Steyr-Mannlicher AG of Austria, who began development in the mid-80s. IWS stands for Infantry Weapon System and the Steyr is regarded as one of the best AMR or 'anti-materiel' rifles in the world. AMR means its purpose is to take down military targets like radar cabins or even helicopters rather than people.
9. Anzio Take-Down Rifle
The Anzio Take-Down is a devastating anti-materiel rifle known for being lightweight as well as powerful. It weighs 39 pounds (17.7 kg) and shoots 20mm Vulcan from a 20 mm barrel. It fires at an eye-popping 1006 m per second (3300 ft). The Anzio 20mm was the first of its type to be made available to the public in nearly a century!
8. Denel NTW-20
This AMR or large calibre sniper began development in the mid-1990s and is produced by Denel's Mechem Division. Denel supply a lot of things to the SANDF or South African National Defence Force, and if they're using the NTW-20 then they really are a force to be reckoned with! These big guys are very effective at disabling vehicles.
7. Knight's Armament M110
The Knight's Armament M110 was invented 10 years ago as part of an ongoing line from the company founded more than 30 years ago. It's well-regarded for both its accuracy and flexibility on the field. This weapon was so effective it received an award from the US Army! It was named one of the best inventions of 2007 and is still highly used today.
6. LWRC SABR 308
The SABR 308 is made by Land Warfare Resources Corporation, a company which is known for its high performance that are unusual for mass produced firearms. It uses a gas piston operating system which sounds cool but you've got to be careful when using this thing. As with all of these, but you don't need me to tell you that!
5. SRS-A1 Stealth Recon Scout
Bigger doesn't always mean better when it comes to sniper ! At anywhere between 31.75 - 37.5 inches (2.64 - 3.12 ft) the SRS-A1 is billed as the shortest of its kind in the world and weighs 12.5 lbs (5.7 kg).
4. Lee-Enfield No.4 Mk.1
Let's go back in time to where sniper were handled in the most brutal of environments. The British company Lee Enfield had a good rep for producing rifles and when the design was modified by UK maker Holland and Holland, the result was classed by some as the best sniper rifle of the conflict.
3. AWM
AWM stands for 'Arctic Warfare Magnum' which sounds pretty cool. And no 'cool' is not a pun cos of the connection to snow and everything! This bolt action sniper rifle is between 1200 - 1230 mm (47.2 - 48.4 in) in length and weighs anywhere between 6.5 - 6.9 kg (14.3 -15.2 lbs).
2. Barrett M82
This semi-automatic anti-materiel rifle is used by the military in almost 60 countries, though surprisingly it was entirely developed by the Barrett Firearms Manufacturing Company and not the army. The name 'M82' comes from the year 1982 as the was worked on throughout the 80s before entering circulation in 1989.
1. CheyTac M200 Intervention
When it comes to the best sniper rifle in the world, the bolt action CheyTac M200 Intervention is a strong contender. Highly regarded for its lightweight 12.3 kg (27.12 lbs) construction, it's also the longest range sniper ever. There's no hiding from this mother with its range of between 1,830 - 2,100 m (6,004 - 6,890 ft)!
Origins Explained is the place to be to find all the answers to your questions, from mysterious events and unsolved mysteries to everything there is to know about the world and its amazing animals!
Download, play and edit free videos and free audios from Most INSANE Rifles In The World! using RedcoolMedia.net web apps