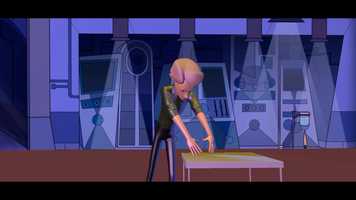 This is the free video MoCap Team Rotosaur: Rendered Emperors New Groove Animation that can be downloaded, played and edit with our RedcoolMedia movie maker MovieStudio free video editor online and AudioStudio free audio editor online
VIDEO DESCRIPTION:
Play, download and edit the free video MoCap Team Rotosaur: Rendered Emperors New Groove Animation.
MoCap Team Rotosaur Course Assignment one.
ATCM 4310 Motion Capture Animation
SP2019 The University Of Texas at Dallas
(We ran into a few issues parenting our salad bowl model. So unfortunately we had to scrap it.)
Instructor: Midori Kitagawa
Assignment_01 Description: MoCap for animated films
1. Each group should select a character in a film, animation, TV show, audio book, play or any recorded time-based work with audio that already exists (i.e., already produced). The character should be biped and have thoughts and feelings like us -- human beings.
2. Select a portion of the audio from the selected time-based work that depicts the selected character's feelings, thoughts and situation well. The length of the audio should be roughly 10 seconds per member. If your group has three members, the audio should be approximately 30 seconds long. The audio can be a narration, the selected character's monologue, or a dialogue between the selected character and another character but you will be animating just one character.
3. Start creating a process book website for your group. Post the selected audio and indicate which member is in charge of cleaning data for which part of the audio (e.g., John from 00:00 to 10:03, Mary form 10:03 to 21:10 and Joe from 21:10 to 31:40).
4. Find or create a 3D character rigged for Motion Builder. It is important that the rig has the skeleton with joint names that follow Motion Builder's naming conventions. It is perfectly fine for the rig to have additional joints for fingers, a tail, etc. (which we won't use for moCap) but it should have all the joints shown in the basic skeleton shown in the naming conventions or a sample skeleton. You may use Maya's Quick Rig.
5. Every motion capture professional whom I have talked to and every book on motion capture that I have read emphasize the importance of planning ahead. Without a good pre-production and planning, your moCap project is destined to fail. You need to document your ideas before going into a motion capture session. Produce the following items and post them in your group's process book:
Selected audio segment and member assignments (Steps 2 and 3) Selected 3D character rig (Step 4) Script (transcript of the audio + descriptions) Character description for the selected character Storyboard Planning sheet Shot list
Note: Blade's standard marker set should be used as your marker configuration.
6. Find the best performer who meets your requirements for the performance you need. Remember: the quality of your animation is largely determined by the quality of the performance that you capture. Before starting any capture, calibrate the camera system and the subject. Play the selected audio for the capture subject when s/he performs. Videotape the capture sessions as references.
7. Clean up data. All markers should be labeled and all trajectories should have no (or only a small number of) discontinuities. Export the subject's skeleton with motion out of Blade. Each member should clean the data for the assigned portion of the animation (audio). (See Step 3.)
8. In Motion Builder, bring in the capture subject's skeleton with motion (S0) and a 3D character's skeleton (S1), have S0 drive S1, edit the motion if needed, bake the motion on S1, and export S1'. (See Motion Builder: Character_to_Character for more details.)
9. Open the 3D character rig in Maya. Replace the character's skeleton with no motion with S1' (the skeleton with motion baked on in Step 8) by merging S1' into the character rig with the namespace option turned off.
10. Setup a camera and lights and render the animation in Maya. Add sounds to the animation.
11. Upload your animation to YouTube and Vimeo. Add video links to your process book.
12. Create a folder for your group in Project 1 folder and submit the followings:
Character rig with skin (and controls if any) without motion (.mb file) Character rig's skeleton only -- no skin, no control, no motion (.fbx or .mb file) MoCap data baked on the capture subject's skeleton (.fbx file) MoCap data baked on the character rig's skeleton (.fbx file) Finished animation
13. Fill in Peer Evaluation Form and email it to the instructor by the assignment's final due date.
Category
Entertainment
Download, play and edit free videos and free audios from MoCap Team Rotosaur: Rendered Emperors New Groove Animation using RedcoolMedia.net web apps