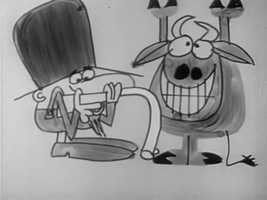 This is the free video Country Corn Flakes TV Commercial ~ 1960 General Mills that can be downloaded, played and edit with our RedcoolMedia movie maker MovieStudio free video editor online and AudioStudio free audio editor online
VIDEO DESCRIPTION:
Play, download and edit the free video Country Corn Flakes TV Commercial ~ 1960 General Mills.
Support this channel: paypal.me/jeffquitney OR patreon.com/jeffquitney
more at quickfound.net/
Parody of Grant Wood's 'American Gothic' painting, with cartoon animation of a pig and chicken, etc."
Originally a public domain film from the Library of Congress Prelinger Archives, slightly cropped to remove uneven edges, with the aspect ratio corrected, and one-pass brightness-contrast-color correction & mild video noise reduction applied.
The soundtrack was also processed with volume normalization, noise reduction, clipping reduction, and/or equalization (the resulting sound, though not perfect, is far less noisy than the original).
en.wikipedia.org/wiki/Corn_flakes
Wikipedia license: creativecommons.org/licenses/by-sa/3.0/
Corn flakes, or cornflakes, is a breakfast cereal made by toasting flakes of corn (maize). The cereal was created by William Kellogg in 1894 for his brother John Kellogg. John Kellogg wanted a food that would be healthy for the patients of the Battle Creek Sanitarium in Michigan where he was superintendent. The breakfast cereal proved popular among the patients, but Will Kellogg wanted to add sugar to increase the popularity. John Kellogg did not approve of this, so Will Kellogg started his own company Kellogg Company to produce corn flakes for the wider public. A patent for the process was granted in 1896, after a legal battle between the two brothers.
With corn flakes becoming popular in the wider community, a previous patient at the sanitarium, C. W. Post, started to make rival products. Kellogg continued to experiment and various ingredients were added and different grains were used. In 1928, he started to manufacture Rice Krispies, another successful breakfast cereal.
There are many generic brands of corn flakes produced by various manufacturers. As well as being used as a breakfast cereal, the crushed flakes can be a substitute for bread crumbs in recipes and can be incorporated into many cooked dishes...
The story of corn flakes goes back to the late 19th century, when a team of Seventh-day Adventists began to develop new foods to adhere to the vegetarian diet recommended by the church. Members of the group experimented with a number of different grains, including wheat, oats, rice, barley and maize. In 1894, John Harvey Kellogg, the superintendent of the Battle Creek Sanitarium in Michigan and an Adventist, used these recipes as part of a strict vegetarian regimen for his patients...
This idea for corn flakes began by accident when Kellogg and his younger brother, Will Keith Kellogg, left some cooked wheat to sit while they attended to some pressing matters at the sanitarium. When they returned, they found that the wheat had gone stale, but being on a strict budget, they decided to continue to process it by forcing it through rollers, hoping to obtain long sheets of the dough. To their surprise, what they found instead were flakes, which they toasted and served to their patients. This event occurred on August 8, 1894, and a patent for "Flaked Cereals and Process of Preparing Same" was filed on May 31, 1895, and issued on April 14, 1896...
mrbreakfast.com/cereal_detail.asp?id=587
Promoted as "double-toasted, double-crisp and good", Country Corn Flakes was a General Mills response to the wild popularity of Kellogg's Corn Flakes. It was made primarily of corn meal, rice, sugar, salt and malt syrup.
According to a 1961 magazine ad, these flakes were "better than any corn flakes you ever ate!!! The secret: Just a touch of rice makes these flakes taste better. Extra tasty, extra toasty. If you don't think so, we'll buy 'em back."...
Download, play and edit free videos and free audios from Country Corn Flakes TV Commercial ~ 1960 General Mills using RedcoolMedia.net web apps