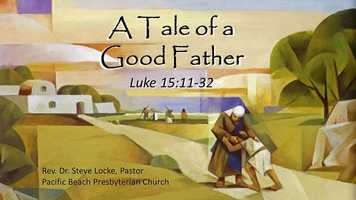 This is the free video A Tale of a Good Father (Luke 15:11-32) July 5, 2020 that can be downloaded, played and edit with our RedcoolMedia movie maker MovieStudio free video editor online and AudioStudio free audio editor online
VIDEO DESCRIPTION:
Play, download and edit the free video A Tale of a Good Father (Luke 15:11-32) July 5, 2020.
A Tale of a Good Father (Luke 15:11-32)
Why would a competent father surrender to his children control over his own economic future? Just one of many questions asked about this parable. Given the social milieu of first century Palestine, this action is unusual. A son would never disrespect his father in this way, demanding money so he can go off and shirk his duty. The father would never be irresponsible and give his son this money. He's not only jeopardizing his reputation; he's jeopardizing his estate and his eldest son's future. Either the father has no backbone or he is so hopeful he believes his son will return and continue work at the estate.
The story begins when some Pharisees bad-mouth Jesus about hanging around with a bad crowd. Jesus responds by telling three parables, the Prodigal Son being the final. These parables address the issue of God's salvation through Jesus. Jesus came for the lost. Whatever it takes to do this is what he's going to do. If a shepherd loses one of his sheep, he risks everything to find it. The same is true of a woman who lost a coin. Lastly, Jesus suggests that a father will risk his reputation and estate to see his dishonorable son return. If the Pharisees were upset before this parable for eating with sinners, they were furious now because he is suggesting that this father acted in the right and within social norms. They believe he is breaking down every principle, every sacred norm that has given Israel stability.
Before we continue with the meaning of this parable let's examine some highlights:
"There was once a man who had two sons." Already we see danger coming to the father. Stories throughout the bible and history are filled with this phrase. We think of Cain and Able, Ishmael and Isaac, Esau and Jacob, Romulus and Remus, and a host of others. These stories are filled with willfulness, jealousy, power and money. Birthright and property are often at the bottom of these disputes. Therefore, when the younger son comes to the father and says give me my share now of the inheritance so I can leave, there are family dynamics at the root of it.
This would never happen in first century Palestine. Neither the son's or father's action would have been expected or tolerated. Some have suggested that the father might have had the son beaten and sent back to work. But such was not the case here.
The next statement that needs attention is after the son acted irresponsibly with his freedom and found himself destitute. Upon reflection he said, "'How many of my father's hired hands have bread enough and to spare, but here I am dying of hunger! I will get up and go to my father, and I will say to him, 'Father, I have sinned against heaven and before you; I am no longer worthy to be called your son; treat me like one of your hired hands.' So he set off and went to his father. But while he was still far off, his father saw him and was filled with compassion; he ran and put his arms around him and kissed him. Then the son said to him, 'Father, I have sinned against heaven and before you; I am no longer worthy to be called your son.'"
There are three movements to this final scene. First is the recognition that he squandered his freedom. It's disappointing and leaves him powerless. It's hard to say if a true revelation leads him to repent, or he's just so lost he doesn't know what to do. Next, he goes to his father. It will be humiliating but his desperation leaves him no choice. On the way he arranges his heart and mind to meet the father with words that are true. Last is the father's embrace. The father's patience was needed to save his son. The son needed the embrace to enter his home again. The son's repentance was empowered by the embrace. His life can move forward in humility.
The father kills the fatted calf for his son, in the same manner that Christ prepares the Marriage Feast in the book of Revelation. The hard work of patience by God and the humiliating action of repentance has brought salvation and restoration to this household. But the older brother brings anger and jealousy into the reunion. Allowing this disrespectful son back into the family was a slap in the face. Even though his share of money is intact, his honor is bruised. The hard work of patience and mercy must lay on the shoulders of the father, who pleads with his son, "Come to the party. Your brother who was lost is found, so we must celebrate. Please don't take my joy away from me now."
While the father was counting on patience to bring his son home, this young man was learning the pain of repentance. He had to learn to expose his guilt, to himself and to others. The most important lesson learned is that repentance means learning to say Abba, Father, again. Putting his trust in the goodness of his earthly father, as well as learning to trust his heavenly father. He had to learn that the meaning of repentance is to return and fall into the father's arms, and admit only God can restore him.
Download, play and edit free videos and free audios from A Tale of a Good Father (Luke 15:11-32) July 5, 2020 using RedcoolMedia.net web apps